Is your kitchen in need of a refreshing makeover? Are you dreaming of a coastal retreat where the gentle breeze and soothing sounds of crashing waves can be felt right in your own home? Look no further! In this blog post, we will take you on a virtual journey to the beach with our collection of coastal style kitchen ideas.
Imagine waking up in the morning and entering your kitchen to be greeted by a burst of ocean-inspired hues. With a coastal style kitchen, you can immerse yourself in the vibrant colors, natural textures, and laid-back vibes that will transport you to a coastal paradise every time you step foot in your kitchen.
So, if you're ready to embark on a captivating journey through coastal style kitchen ideas that will transport you to the beach, fasten your seatbelts and get ready to be inspired. Together, we will turn your culinary space into a coastal paradise that will whisk you away to sandy shores and sunny skies, all from the comfort of your own home.
How To Achieve That Beach Style Kitchen?
Embracing A Coastal Color Palette For Your Kitchen
If you're dreaming of a beach getaway every time you step into your kitchen, why not consider embracing a coastal color palette? By incorporating the right colors into your kitchen design, you can achieve that coastal vibe you've been longing for. So, here are coastal style kitchen ideas that will bring the beach to your home:
Soft Blues and Greens: When it comes to coastal colors, soft blues and greens are a must. These colors mimic the hues of the ocean and evoke a sense of tranquility. Consider painting your kitchen cabinets in a light blue shade or opting for seafoam green tiles for your backsplash. These colors will instantly create a soothing and serene ambiance in your kitchen.
Crisp Whites: White is a staple color in coastal design. It not only brightens up the space but also gives it a clean and fresh look. From white cabinets to white countertops, incorporating this color into your kitchen will instantly make it feel more beachy. You can also add pops of white through kitchen accessories, such as dishware or bar stools.
Sandy Neutrals: To complement the ocean-inspired blues and greens, sandy neutrals are essential. Think warm beige, soft taupe, and light tan. These colors add depth and warmth to your coastal kitchen while mimicking the sandy shores. Consider using these neutral tones for your kitchen walls or flooring to create a harmonious coastal color palette.
Nautical Accents: To fully embrace the coastal theme, incorporate nautical accents into your kitchen design. This can include rope handles for your cabinets, seashell-shaped drawer pulls, or even a decorative ship's wheel displayed on the wall. These small touches will effortlessly enhance the coastal ambiance and tie the whole look together.
A coastal style kitchen is all about creating a relaxed and serene atmosphere that will transport you to the beach, even if you're miles away from the shore.
Incorporating Natural Elements And Textures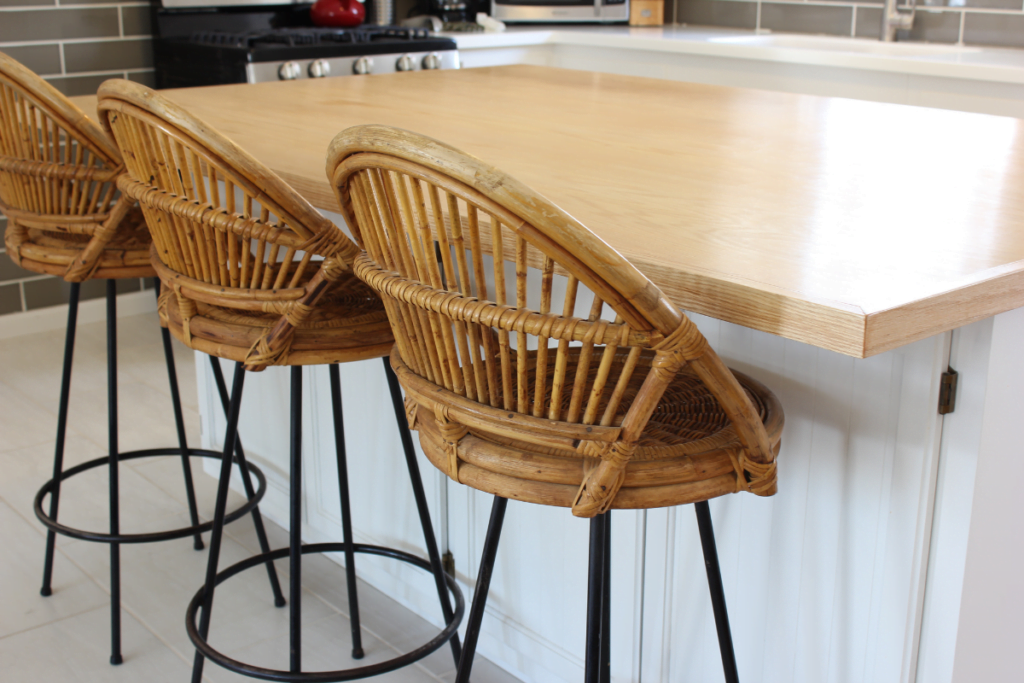 By bringing in elements inspired by nature, you can transport yourself to the beach and feel the calming vibes of the coast right in your own kitchen. Here are some ideas on how to incorporate natural elements and textures in your coastal style kitchen:
Use Organic Materials: Opt for cabinets and countertops made from natural materials such as wood, bamboo, or rattan. These materials not only add warmth and texture to your kitchen but also bring a touch of nature indoors.
Embrace Earthy Colors: Choose a color palette inspired by the beach and ocean. Shades of blues, greens, whites, and sandy neutrals can create a soothing and coastal feel. Consider painting your cabinets in a soft blue or white, or add a pop of color with a sea-inspired backsplash.
Incorporate Natural Stone: Install a natural stone backsplash or countertop to add a luxurious touch to your coastal style kitchen. Materials like marble or granite can mimic the look of beach rocks and provide a stunning focal point.
Bring in Plants: Introduce potted herbs or small indoor plants to your kitchen to add a refreshing touch of nature. Not only do plants provide a pop of greenery, but they also purify the air and create a healthier environment.
Add Texture with Woven Accents: Use woven elements such as rattan bar stools, wicker pendant lights, or seagrass baskets to add texture and depth to your coastal style kitchen. These natural textures evoke a relaxed and beachy vibe.
Let the soothing colors, organic materials, and touches of nature transport you to a coastal oasis every time you step into your kitchen.
Coastal-Inspired Cabinetry And Backsplash Ideas
Coastal style kitchens are all the rage, and there's no better way to achieve that look than with the right cabinetry and backsplash. Here are some ideas to help you transform your kitchen into a coastal paradise:
White Shaker Cabinets: Start with a classic coastal choice - white shaker cabinets. Their clean lines and timeless appeal make them a perfect fit for any coastal-inspired kitchen. The bright white color will instantly give your space a fresh and airy feel, reminiscent of sandy beaches and crisp ocean waves.
Light Blue Accents: To infuse a pop of color into your coastal kitchen, consider incorporating light blue accents. Whether it's a subtle hint in the cabinet hardware or a bolder choice for the backsplash, this soothing hue will bring the calming essence of the sea right into your home.
Glass-Front Cabinets: Open up your kitchen and showcase your coastal-inspired dishes and glassware with glass-front cabinets. The transparency of the glass allows light to bounce around the space, creating an illusion of a larger and brighter kitchen. Display your collection of seashells or beach-themed decor for an added touch.
Natural Wood Finishes: For a more organic and rustic coastal look, opt for natural wood finishes for your cabinetry and backsplash. Choose lighter wood tones like pine or oak to achieve a beachy vibe. The natural grain patterns and textures will add warmth and character to your kitchen while evoking the feeling of driftwood washed ashore.
Nautical Backsplash Tiles: Complete your coastal kitchen with a nautical-inspired backsplash. Consider tiles in shades of blue and white, reminiscent of ocean waves. You can also choose patterns such as chevron, fish scales, or even mosaic designs featuring seashells or starfish. These unique backsplash options will instantly transport you to the beach.
Let the sea-inspired elements wash over your kitchen and enjoy the coastal vibes all year round.
Clever Storage Solutions For A Beach-Inspired Kitchen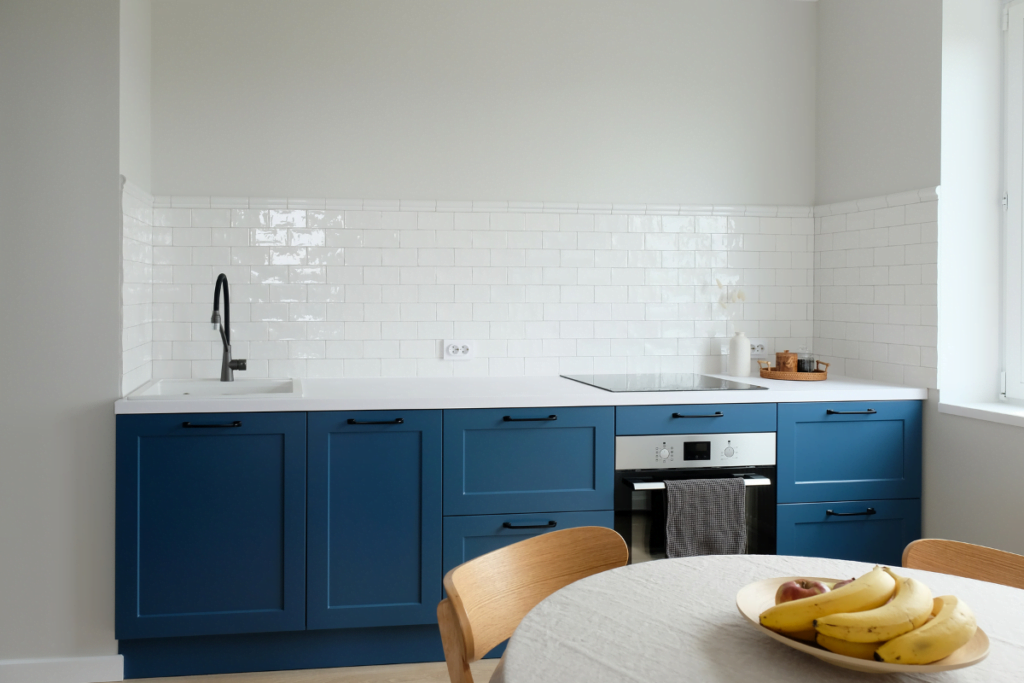 If you have a beach-inspired kitchen and are looking for clever storage solutions to enhance its coastal style, we have some ideas for you. So, start transforming your kitchen into a coastal oasis with these ideas and enjoy the beach vibes every day.
Open Shelving: Embrace the airy and relaxed vibe of the coast by incorporating open shelves in your kitchen. Display your collection of beach-themed plates, bowls, and glasses for a charming coastal touch. Utilize baskets and bins to neatly organize your kitchen essentials while still maintaining that beachy feel.
Seagrass Baskets: Bring a touch of natural beauty to your kitchen with seagrass baskets. These versatile and durable baskets can be used to store fruits, vegetables, or even kitchen linens. Place them on open shelves or countertops for an effortless coastal look.
Nautical Hooks: Maximize your kitchen's storage potential by installing nautical hooks. Hang your aprons, oven mitts, and dish towels on these decorative hooks, adding both functionality and coastal charm. Choose hooks in ocean-inspired colors like sea blue or sandy beige to complete the beachy feel.
Beach-Inspired Containers: Store dry goods like pasta, rice, and spices in beach-inspired containers. Look for glass jars or ceramic canisters with seashell motifs or coastal patterns. Not only will they keep your ingredients fresh, but they will also add a whimsical touch to your beach-inspired kitchen.
Floating Shelves: Create additional storage space with floating shelves. Install them above your countertop or near your cooking area to keep everyday essentials within easy reach. Decorate the shelves with coastal-themed accessories such as seashells, starfish, or driftwood for a true beach-inspired feel.
By incorporating these clever storage solutions into your beach-inspired kitchen, you can create a space that not only evokes the coastal charm but also provides practical storage options.
Rustic Charm And Coastal Elegance Wood Flooring
If you're looking to create a coastal style kitchen that exudes rustic charm and coastal elegance, one key element you should consider is the flooring. Wood flooring is a timeless choice that can instantly transform your kitchen into a beach-inspired oasis.
Bleached Oak: Opt for bleached oak wood flooring to bring a touch of coastal simplicity to your kitchen. The light, airy color of the wood mimics the natural weathering process of driftwood found along the shore. This flooring option pairs beautifully with white cabinetry and nautical-inspired accents.
Distressed Hardwood: Embrace the natural beauty of distressed hardwood flooring to capture the essence of a weathered coastal cottage. The worn-in look adds character and charm to your kitchen, creating a relaxed and inviting atmosphere. Pair this flooring with pastel-colored walls and vintage coastal decor for a truly coastal-inspired space.
Wide Plank Pine: For a coastal farmhouse vibe, consider wide plank pine flooring. The rustic texture and warm tones of the wood create a cozy and inviting feel in your kitchen. This flooring pairs well with open shelving, farmhouse sinks, and pops of blue or turquoise for a coastal touch.
Whitewashed Bamboo: Bamboo flooring offers durability and sustainability while also providing a coastal aesthetic. Opt for a whitewashed finish to bring a light and airy feel to your kitchen. The clean and modern look of whitewashed bamboo pairs well with sleek white cabinets and stainless steel appliances for a contemporary coastal style.
Coastal Grey: If you prefer a more modern coastal look, consider coastal grey wood flooring. The cool-toned grey adds a touch of sophistication to your kitchen while still maintaining a beachy feel. Pair this flooring with sleek white or grey cabinets, marble countertops, and pops of ocean-inspired colors like seafoam green or soft coral.
Whether you prefer bleached oak, distressed hardwood, wide plank pine, whitewashed bamboo, or coastal grey, there's always a wood flooring option and a good kitchen flooring installation that will perfectly suit your coastal style kitchen.
Coastal Style Kitchen: Transform Your Kitchen With Coastal Charm!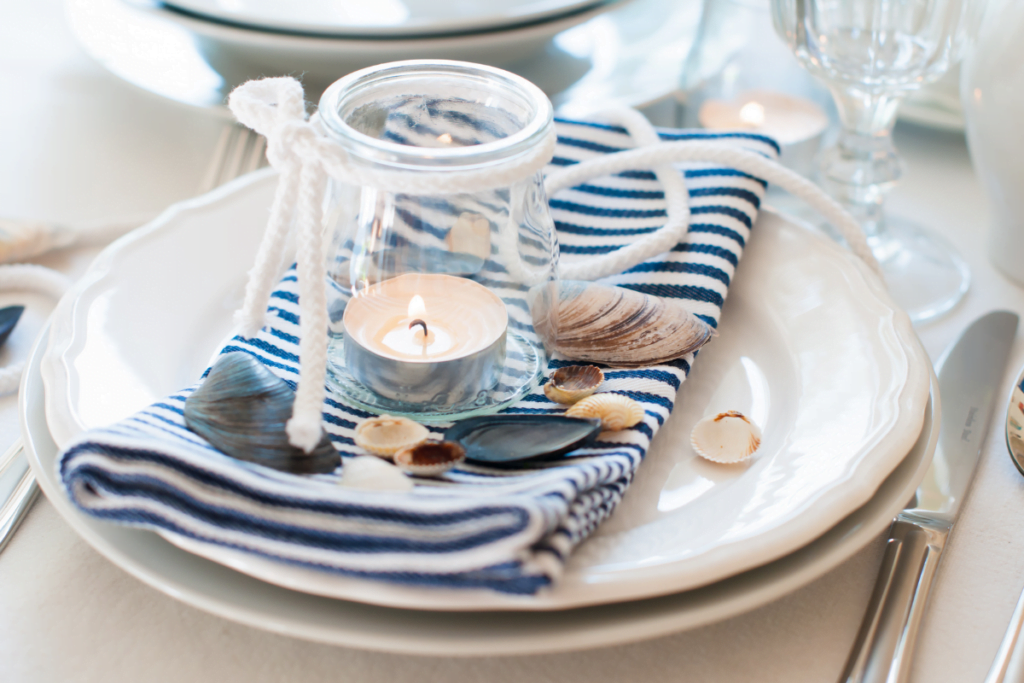 Isn't it time to bring the refreshing charm of the seaside right into your kitchen? With Kitchen and Bath by Zeus, you can do just that!
Our experts excel at coastal style kitchen remodeling, turning your ordinary kitchen space into an extraordinary coastal haven. With our unique blend of functionality, style, and the essence of the beach, your kitchen will surely be the talk of the town.
Bring that seaside holiday feeling into your home. Contact us today and let our professionals guide you through our vast array of coastal style kitchen ideas. Let us help you create a kitchen space that is not just a feast for the eyes but also a boost for your home's value.
So, why wait? Get in touch with Kitchen and Bath by Zeus today and let's start turning that dream kitchen into a reality. Your kitchen transformation is just one call away - seize the day and start cooking up a masterpiece!