Are you looking to add a wow factor to your downstairs half bath? If you're at a loss of how to make it look brilliant with style, you've come to the right place. As a homeowner, you can achieve unique decor results with a few handy downstairs half bath ideas. All it takes is a simple plan of action, without spending a fortune. Whether you're looking to install a new vanity or to upgrade the lighting fixtures, this blog post will provide you with easy-to-follow instructions. So, if you're looking to give your downstairs half bath a touch of sophistication, this blog post will provide you with five transformative tips to make it happen. Keep reading to find out how to design the perfect downstairs half bath in no time.
Make a Plan for Your Downstairs Half Bath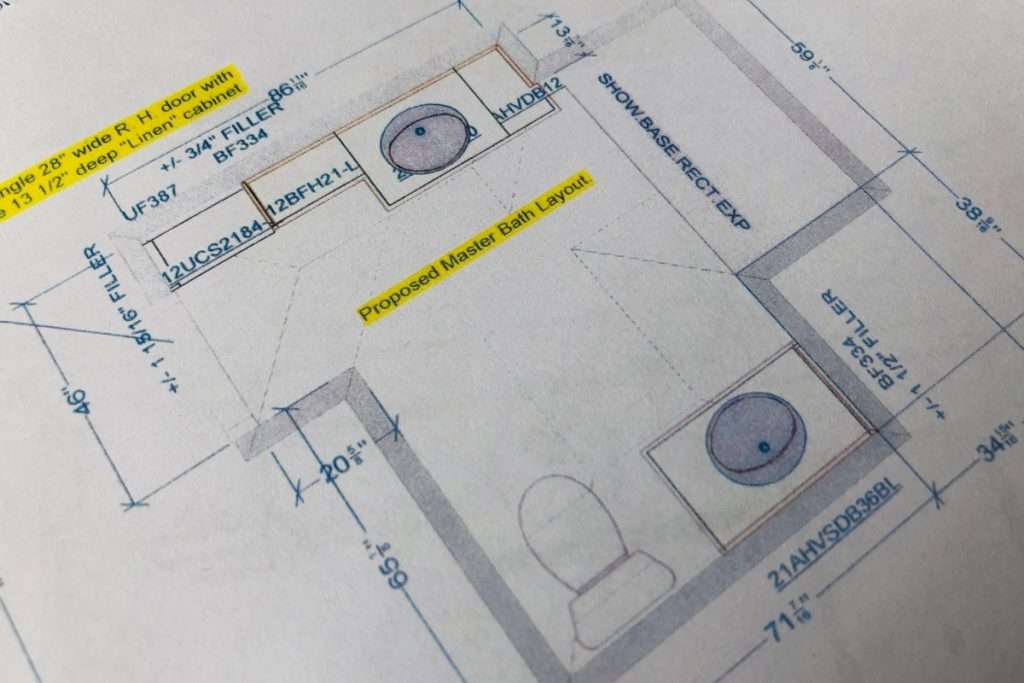 Making a plan for transforming your downstairs half bath ideas into reality does not have to be overwhelming. You can create a stunning design concept for the half bath in your home by following a few simple steps. Here are some tips to help you create a gorgeous plan for your downstairs half bath.
First, consider the space available. Measure the space and take note of where any plumbing or electrical outlets are located, as well as the location of the window if there is one. Making a detailed sketch of the layout will help you determine what type of décor and fixtures will work best in the space and ensure that everything is properly organized.
Next, determine the overall style of the bathroom. A modern style may utilize contemporary elements such as monochromatic walls and minimalistic accents, while a classic approach might include traditional finishes with rustic elements. Once you decide on a style, think about the types of fixtures and materials that will bring the look to life.
Third, pay attention to the details. Decide on the types of materials you will use to bring the look together. Consider using natural stone tile on the floor, ceramic or porcelain tile for the walls, and a timeless backsplash in the sink area. Also, consider the types of fixtures, such as the vanity, faucet, and lighting. Keep in mind that these decisions should be made with the overall style of the room in mind.
Fourth, don't forget the finishing touches. Accent pieces like artwork, rugs, and plants, are the perfect way to complete your downstairs half bath and add personality to the space. If the room has a window, find the right curtains or shades to complete the look.
Finally, ensure that all of the elements work together to create a cohesive and stylish look. Combining different styles, fixtures, and materials can be tricky, but with a bit of planning, you can create a functional and beautiful downstairs half bath. With a detailed plan and these helpful tips, you can transform your downstairs half bath ideas into a reality.
Think About the Color Scheme of Your Downstairs Half Bath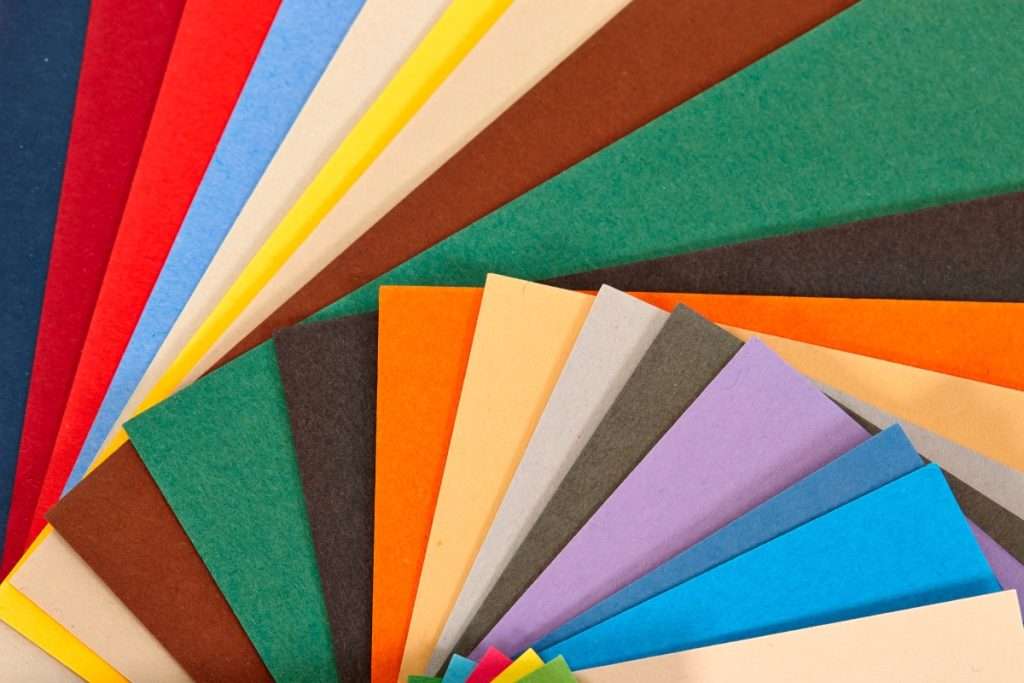 When it comes to revamping any room in your home, color is one of the easiest—and most impactful—changes you can make. As far as downstairs half bath ideas go, choosing the right hue can go a long way towards creating the look and feel you're after.
From crisp blues and greens to bold magentas and yellows, the nearly endless possibilities available will guarantee you'll find something you love. However, it's important to note that your chosen colors should work together harmoniously and to not overdo it. Opt for two to three shades for the walls and the accessories for a balanced look.
It's also worth considering how the various elements fit into the larger theme of the space. For instance, if you're looking for a more fun and quirky vibe, go for a unique palette with unexpected combinations. On the other hand, a classic and timeless aesthetic requires a more subdued and neutral selection.
To ensure you don't get stuck on any one downstairs half bath ideas, it's recommended to start with the neutral tones first before adding in any bright ones. That way, you can layer in some focal points—like the vanity, mirror, or artwork—with brighter hues to add visual interest.
Another helpful tip is to pick a shade from an existing piece in the room, such as a patterned shower curtain or a hand towel, as your starting point. From there, you can further build out the palette in other parts of the space.
Picking the right colors for your downstairs half bath may seem overwhelming at first, but ultimately, leaning into the tones that best reflect your personal style will result in a space that you and your guests can love.
Make Comfort & Convenience a Priority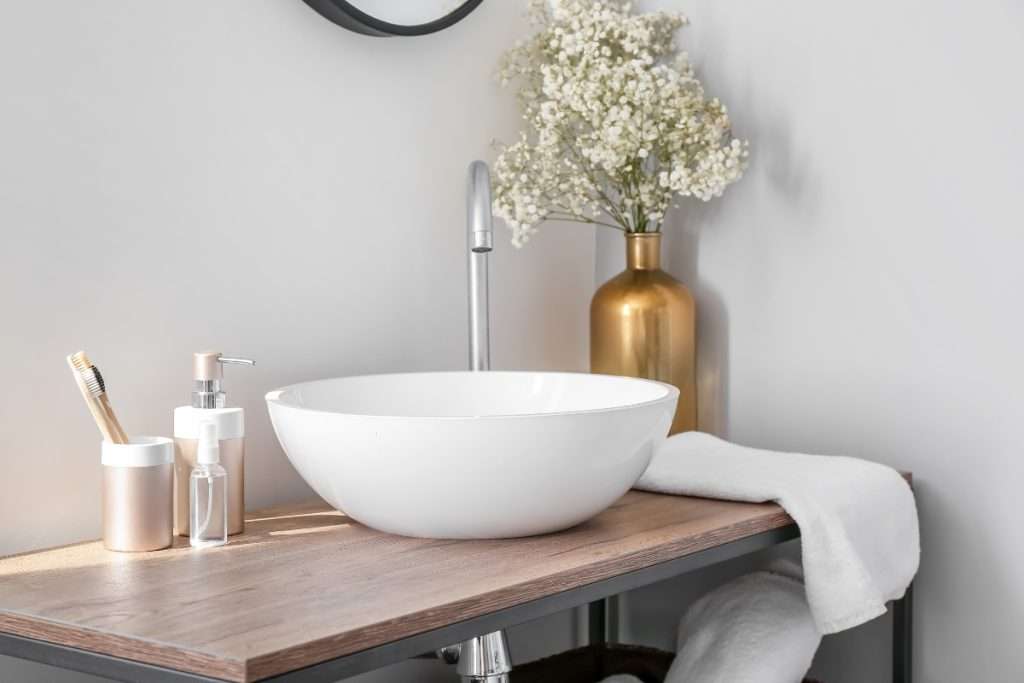 Making a comfortable and convenient half bath is a top priority for any homeowner. After all, a half bath can give guests the perfect impression of your home when they first visit, and it should also make your daily life more comfortable and stress-free. Here are some useful tips to make sure your downstairs half bath ideas come to life.
First and foremost, you should put practicality first. Installing a vanity with ample counter space is key for easy storage of toiletry items and cleaning supplies. Be sure to add a mirror as it will make your space feel more open, and you can even build in lighting around the perimeter to illuminate the entire area. In addition, make sure you have adequate towel storage so that you never have to search for an extra towel when needed.
Next, focus on comfort. Adding a heated floor or towel warmer can be a wonderful luxury in your half bath, while adding a wall shelf or two can provide an unexpected place to store those little toiletry items or magazines. You can also add a calming scent, such as lavender or eucalyptus, to create a more serene atmosphere.
Finally, consider the overall design of the space. This will typically depend on the style of your home, but you can choose from modern and traditional designs alike. Look for wallpaper, tile, or paint colors that will tie the space together and bring out the features you want to highlight. The goal here is to create a cohesive look that is inviting for guests and provides a sense of calmness when you enter the room.
Utilize Smaller Spaces with Creative Storage Solutions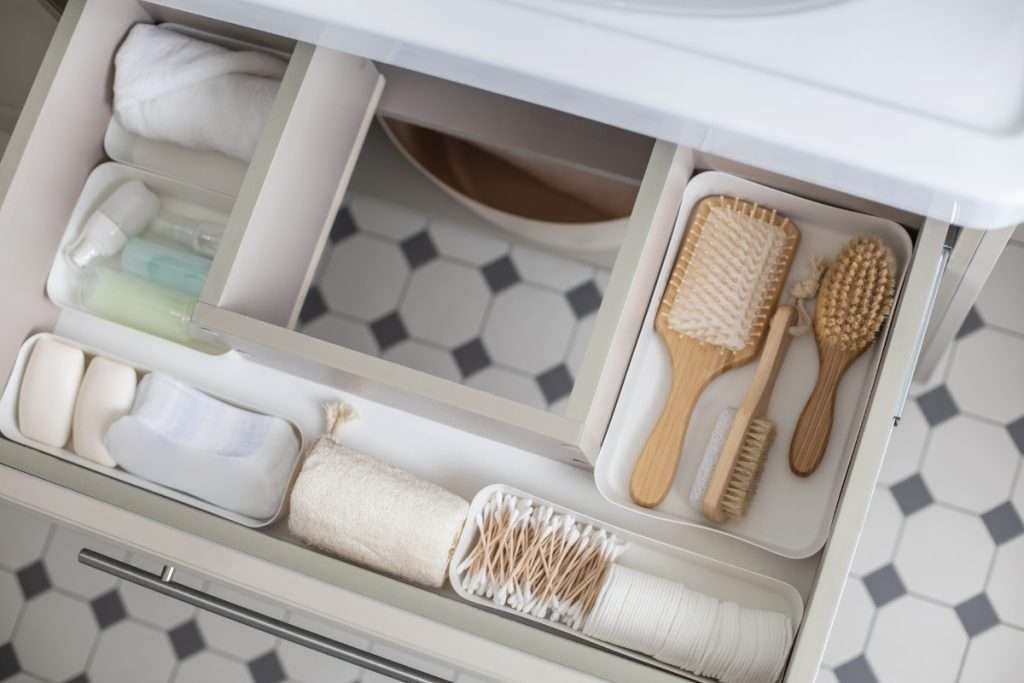 Small bathrooms can often cause a challenge for homeowners in figuring out where to store items such as extra towels and toiletries. Utilizing creative storage solutions is the key to transforming your downstairs half bath ideas into reality. Here are 5 tips that can help you utilize smaller spaces with creative storage solutions to fully maximize your space.
Utilize shelving around the door frame: Shelving built into the door frame is a great space saving solution and brings extra storage to the half bath. This option can easily be DIY'd by adding a few shelves, or even just one shelf, to the upper portion of the doorframe.
Place items on the walls: Wall-hung pieces are ideal for small bathrooms as it frees up an essential amount of floor space all while keeping items organized and off the surface. Opt for wall hung cabinets that don't take up too much space.
Hang baskets from the wall: Baskets are great for storing toilet paper, towels, and other necessary items that would otherwise take up counter space. Hang wicker and wire baskets from the wall to hold these items and also utilize unused wall space.
Utilize corner space: A lot of bathroom spaces are left unused due to the odd corners which usually go unutilized. One solution is to use corner shelving which fits right into the corner's edge and can be used to store various items.
Create a multi-purpose storage piece: Create a multipurpose storage piece that's also decorative. You can easily make a storage piece to fit any space and it's a great way to keep items organized and out of sight at the same time.
Add Personality with Accessories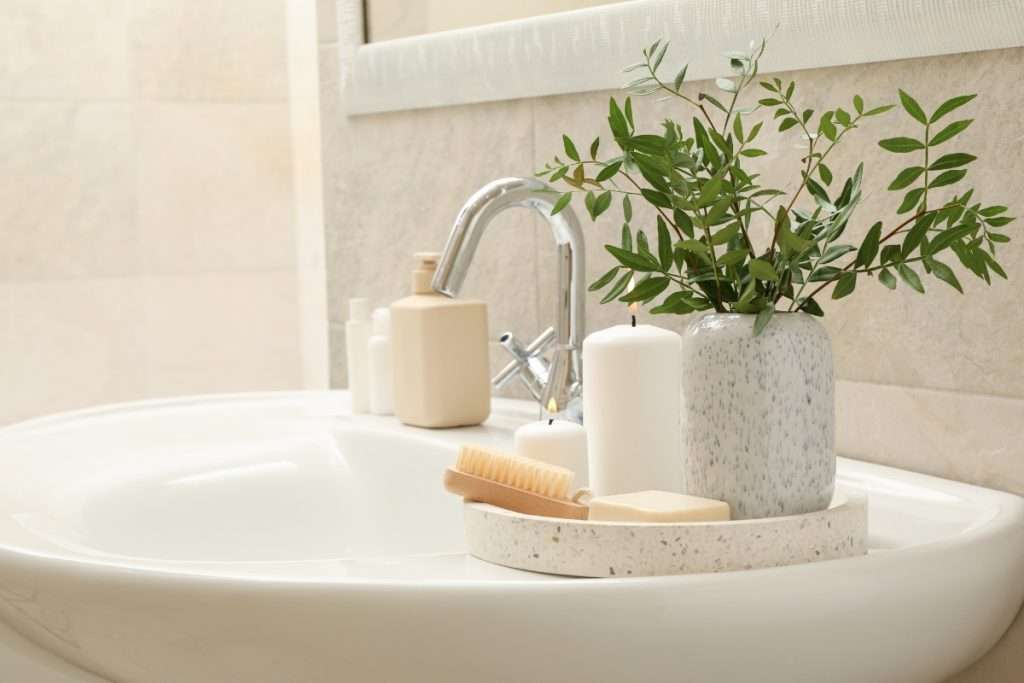 Whether you're remodeling your downstairs half bath or starting from scratch, accessories are the perfect way to add a little personality while still achieving a cohesive design. Here are five tips to make sure you get it right:
Choose accessories that are in scale to the space. The last thing you want is room filled with accessories that take away from the impact of the other design elements. Select items that complement the room size and layout.
Don't skimp on quality. Although accessories may seem like small pieces, together they can have a big impact on the overall look and feel of the room. Invest in quality materials that are durable and easy to care for.
Consider color. Accessories give you an opportunity to introduce an additional color into the space. From trays and baskets to towels and tissue holders, there are plenty of ways to bring a burst of color without overpowering the design.
Personalize it. Incorporate personal items, such as framed photos, paintings, and candles, that represent your family's style. This will help make the space special and personal to you.
Add texture. Textiles, such as rugs, bags, and pillows, are an easy way to add texture and interest to a room. Layering with different textures will create a more inviting and comfortable feel to the space.
Adding the right accessories to a downstairs half bathroom can completely transform the look and feel of the space. Keep these tips in mind as you shop for accessories and you'll be sure to create a space that is both beautiful and functional.
Conclusion
The downstairs half bath is one of the most important rooms in the home, as it's often the area where guests spend a lot of their time. You want to make sure it looks its best and reflects your style. By following these five tips and incorporating creative ideas, you can transform any downstairs half bath into a luxurious, welcoming space that is sure to impress your guests.
For the ultimate value in bathroom remodeling projects of all sizes, trust the professionals at Kitchen and Bath by Zeus. Our expert team offers a range of high-quality bathroom remodeling services, guaranteeing the perfect bathroom for your home. Call us today at 404-602-2668 or schedule a free consultation with us to discuss your home renovation project and discover how we can help bring your vision to life.