Kitchen floors need to stand the test of time with their durability and, of course, style. Plus, your kitchen flooring has an impact on the other design elements that you choose for your kitchen. So here are the things that you need to consider when searching for the best kitchen flooring.
Your kitchen, your rules!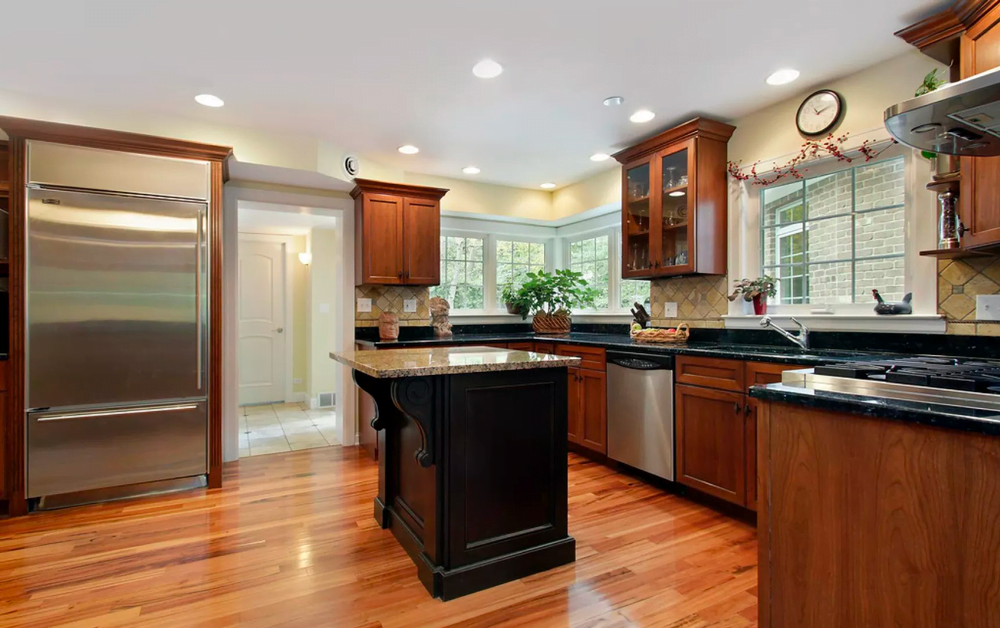 Selecting the Best Kitchen Flooring: What to Consider?
It's understandable that you get excited as you shop for your kitchen renovation, but here are the things that you need to keep in mind before making any purchase.
Sense of Style
Do you want your kitchen flooring to be a design statement or just a neutral backdrop? Answering this question will determine how your choice of flooring will complement the rest of your kitchen.
Visualize your dream kitchen. Do you want it rustic or more polished? Then think about your kitchen's existing patterns, textures, and colors. Don't be afraid to express your personality through your style.
Way of Living
Do you have kids at home? Then the best kitchen flooring for you is something that is not slippery. Your lifestyle is actually one of the indicators of the type of flooring that you should choose.
Kitchen utensils being dropped on the floor, ingredients getting spilled, and kids running around while you're busy cooking are common scenarios in the kitchen. This means your kitchen should be able to last for years despite all of this.
Easy to Clean
There are a lot of things going on in a kitchen, so cleaning the floor after cooking must be something that will not burden you. So for you not to spend an equal amount of time cleaning as you did on cooking, choose the type of floor that is easy to clean. Also, choose the kind of material that is waterproof and not likely to be stained.
More Things to Consider for the Best Kitchen Flooring
Choosing the type of flooring should not only be budget-friendly but also comfortable to use.
Budget
With any type of remodel, one of the things that is put into consideration is the budget. And with a kitchen remodel project, you also have to set a budget for other things aside from the flooring. This includes the countertop installation, the lighting fixtures, and the cabinetry works, just to name a few. So you might be wondering how to estimate the cost of the best kitchen flooring installation.
What you need to do is to measure the floor area of your kitchen so you will get an idea of how much budget you must set aside. But keep in mind that other costs may still apply, such as the removal of your old flooring.
Kitchen and Bath by Zeus understands that some renovations can cost more than others. So check out how our financing options can help you.
Level of Comfort
Some recipes last more than an hour to cook and prepare so be sure to have the best kitchen flooring installed. A resilient material will help maintain the level of comfort regardless of how long you spent slicing and stirring.
So if you want to lessen the fatigue on your legs, go for wood instead of tiles. On the other hand, you can use a soft rug or mat to still make your feet and legs comfortable even when standing for a long period.
The Best Kitchen Flooring Installation
Your kitchen floor can make or break the interior design of your kitchen and it all starts with the type of flooring that you choose. And with all the different choices available, it can be overwhelming. Good thing that Kitchen and Bath by Zeus is the company you can rely on with all things flooring installation and repair.
Ready for your new flooring installation? It is best to know what works for you when selecting the best kitchen flooring. So ask away and don't hesitate to contact us for a free consultation.