Do you want to add a small half bathroom to your home? Or do you have an existing small half bathroom that you want to remodel? Either way, we've got some inspiring small half bathroom ideas for you!
When you're looking for a bathroom that's perfect for your needs, it's important to have a few things in mind. And adding the following to your half bathroom is something you will want to consider.
Comfortable Bench
Floating Shelf
Wall-Mounted Sink
Glass-Enclosed Window
Decorative Tile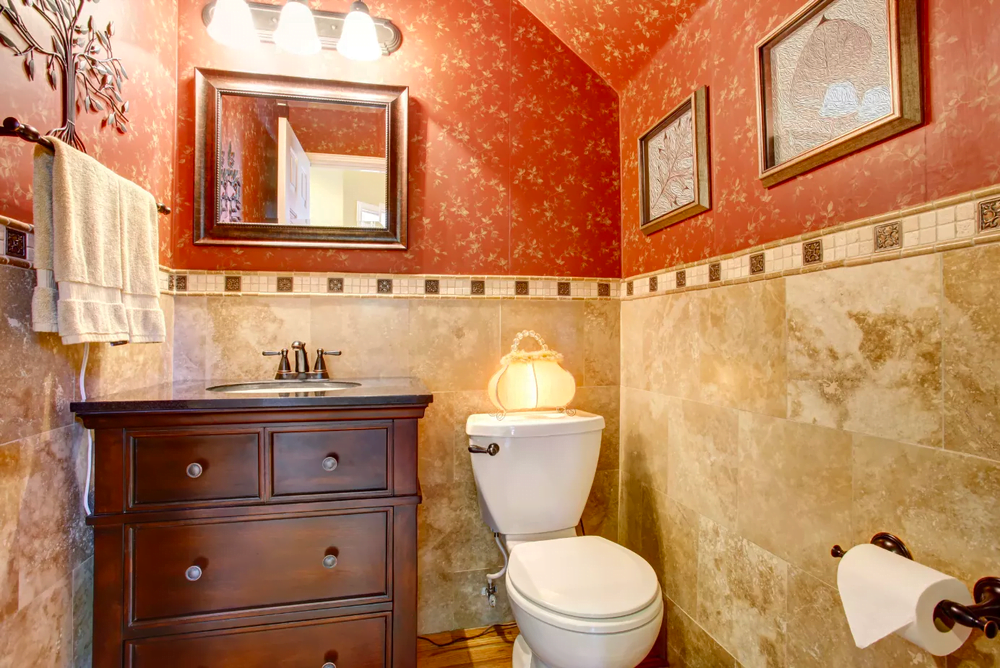 Small Half Bathroom Ideas: Why Add a Bench Despite the Small Space?
Adding a bench to your small half bathroom will provide extra seating and a place to store your toiletries. You can put it in the corner to create extra storage and a comfortable seat. However, there are a few tips to keep in mind when choosing a bench for your bathroom:
Choose a bench that is the right size for the space. A small bench may not be comfortable enough to sit on, while a large bench may take up too much space.
Consider the materials used. Wood or metal benches are popular choices because they are durable and look elegant in any bathroom. However, some materials, like plastic, may not be as sturdy and may not last as long.
Choose a style that fits with the rest of your bathroom decor. A traditional bench looks best in a traditional bathroom, while an eye-catching design like animal prints will look better in a more contemporary bathroom.
Small Half Bathroom Ideas: Add a Floating Shelf
Adding a floating shelf to your small bathroom can be a great way to maximize your space. Floating shelves are versatile and can be used in many different ways in a small bathroom, such as storage for towels or toiletries, or as a place to put your cosmetics. And there are several tips to keep in mind when choosing a floating shelf for your bathroom:
Choose the right size. It's important to choose the right size for your bathroom. A too-small shelf may not be enough space to store everything you need, while an oversized shelf may look too cluttered.
Consider how you'll use it. Consider how you'll use the floating shelf before buying it. If you're planning on using it as storage, look for shelves that are deep enough to hold items like towels and linens. If you're using it as a vanity area, choose shelves that are low enough so that you don't have to crouch down to reach them.
Choose the right material. Floating shelves can be made from wood, metal, or plastic. Wood is typically the most expensive option, but it's also the most durable. While a metallic finish will add a little bit of style to your small bathroom.
Small Half Bathroom Ideas: Add a Wall-Mounted Sink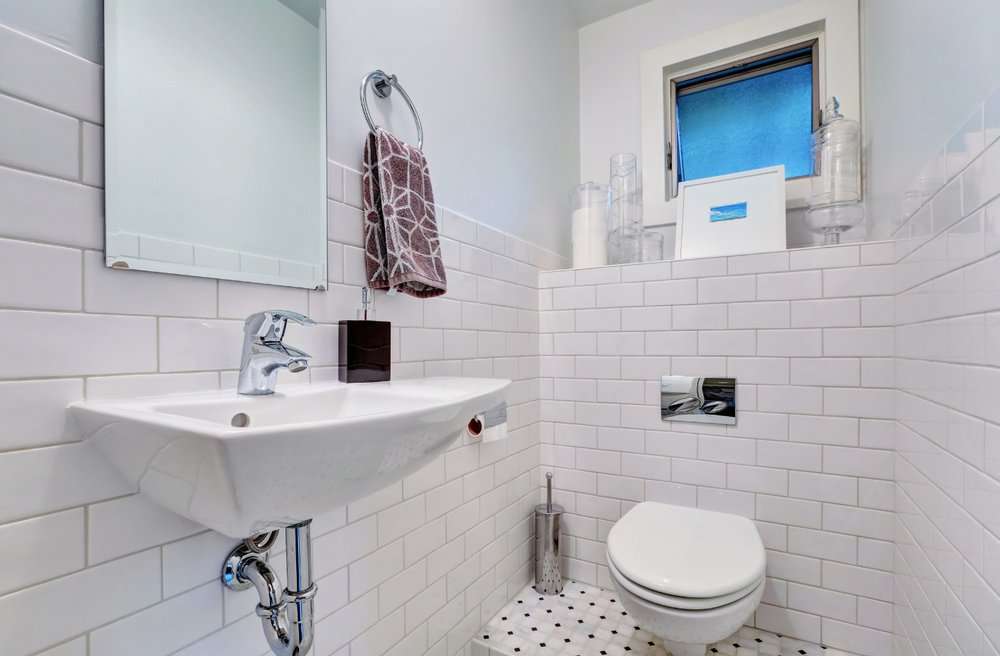 Adding a wall-mounted sink to your small bathroom can help you save space and make the room more functional. When choosing a sink, keep in mind the size of the space and the height of the countertop. In general, sinks that are 36 inches or less in depth are best for small bathrooms, as they won't take up much room. If you have a low ceiling, consider a sink that is 18 inches or less in height to avoid having to stoop over.
When installing your sink, be sure to use a drainage system that fits your bathroom flooring. Installing a sink without proper drainage can cause water damage and even mold growth. Also, be sure to clean the sink regularly so it looks fresh and new.
Add a Glass-Enclosed Window
Adding a glass-enclosed window to your small bathroom can provide natural light and ventilation while keeping the space looking neat and tidy. But before you start installing, there are a few small half bathroom ideas and tips to keep in mind:
Choose an appropriate window size. A smaller window will be more intimate and a larger one will offer more light and ventilation.
Consider the style of your bathroom. If it is traditional in style, a traditional window might be best suited. If your bathroom is modern or has a transitional feel, a frameless or glass-block window might be better suited.
Choose the right type of glass for your bathroom. Some options include vinyl windows that can be sealed against moisture and bacteria infiltration, as well as shatter-resistant glass that is resistant to damage from broken shards of glass in an emergency evacuation situation.
Consider the security of your window. If you have children or pets, be sure to choose a window that can be closed securely from the outside.
Install the window correctly. Be sure to measure the opening and confirm that the framing is adequate before installing the glass. If you are installing a frameless window, make sure to use a proper trim kit to finish off the look of your bathroom.
Small Half Bathroom Ideas: Add a Decorative Tile
Adding a decorative tile to your small bathroom can help create a more updated look. There are a few tips to follow when choosing the right tile for your space.
First, consider the style of bathroom you're creating. Traditional or rustic bathrooms will likely prefer natural or earth-toned tiles, while modern bathrooms might prefer brightly colored tiles.
Once you have decided on the style, look for tiles that fit both the size and shape of your bathroom. Smaller bathrooms will likely benefit from smaller tiles, while larger bathrooms might prefer larger tiles that fill up more of the space. Be sure to take into account any cabinets or the countertop in the room as well as any existing flooring. Some tiles may not be compatible with certain surfaces.
Finally, be creative when choosing your tile. Some small bathroom ideas include adding a mosaic tile backsplash or using colorful floor mats as a focal point on the floor. With a little creativity and attention to detail, you can create a beautiful and functional small bathroom all your own!
For Bathroom Conversions, Trust Only the Experts!
If you're looking to remodel your small half bathroom, you might want to consider these ideas. This will give you more space to work in, and it'll look great too! And with the help of Kitchen and Bath by Zeus, you will achieve your dream bathroom in no time. So for bathroom conversions, trust only the experts.
We hope that these small half bathroom ideas have inspired you to take a look at your bathroom and see what can be done to make it more functional and appealing. And to discuss these ideas further, feel free to send us a message.