With all the things happening inside the kitchen, it is only best to remember that kitchen countertops should not give you a hard time maintaining. When choosing one, we see to it that it complements well with the rest of our kitchen. But let's not also forget that aside from being attractive, kitchen countertops must also be durable. Take quartz countertops as an example.
Being a high-quality surface material, countertops made of quartz deserve much recognition in the field of construction. So if you are planning on getting one for your kitchen remodeling project, here are the things you need to know as a guide.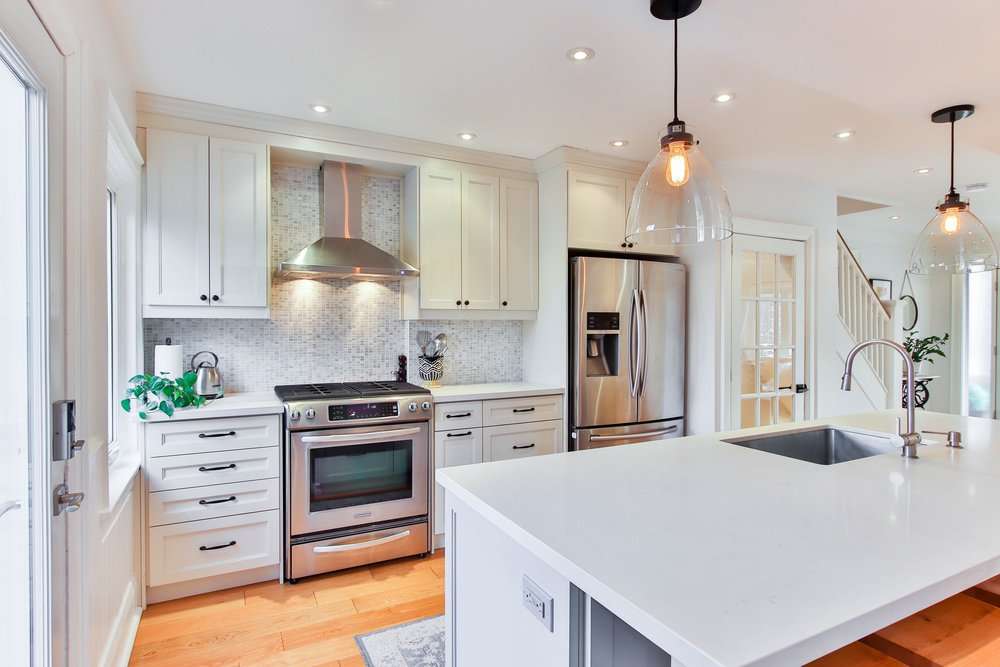 When you inquire about quartz countertops, the first thing that you will probably hear of is them being hard and durable. It is "engineered" by men to be used mainly in bathrooms and kitchens.
Quartz counters are also referred to as stone counters since quartz is mostly made of stone-like materials. In fact, the resin that is used to bind its components only comprises seven percent of its entire parts. And this adhesive is either made of a cement-based or plastic-like material.
Quartz is a combination of stone-like substances that are attached together with the use of resins. They are then pressed, manufactured, and turned into sheets. The kind of adhesive that it has already acted as a sealant, requiring no other method of sealing at all. And since the way it is fabricated is highly supervised, little to no imperfections are present in quartz countertops.
The Advantages of Using Quartz Countertops
Take a look at the many benefits of incorporating quartz in your kitchen. Then see for yourself whether this product is worth investing in.
Great Appearance
It is undeniable that one of the reasons buyers choose quartz countertops is their physical appearance. It has a natural soft glow that makes its surface slightly reflective yet gentle to the eyes. Quartz also possesses the qualities of a natural stone and seems to appear three-dimensional.
Easy to Install and Clean
Quartz is one of the most abundant minerals found on Earth. But unlike other natural products, countertops made of quartz are easy to handle and install. That is why many installers love them since they don't also have much toxic waste.
Compared to granite that is porous, quartz counters are easy to clean as well. Therefore, they are more beneficial in keeping your kitchen free from bacteria.
Hard Enough
Although quartz is a crystalline mineral, it is hard enough to be made as a work surface. Unlike a laminate countertop that has particleboard as its wood base, quartz countertops are mainly made of minerals, making them more solid.
Since quartz counters are usually made of stone-like materials, they tend to become durable. They can stand the test of time and the demands of cooking, dish washing, and the load of your kitchen utensils.
A Variety of Colors to Choose From
Having your preferred color is possible with this kind of countertop through the process called pigmentation. It is also possible to integrate different materials into quartz such as glass and stone.
How Much Will Quartz Countertops Cost You?
Quartz countertops are usually pricey. It is even more expensive than the other high-priced choices. For popular brands that are of high quality, the price per square foot is expected to be around a hundred dollars.
Although quartz counters are considered uneconomical, they are worth your time and money. They have the ability to last longer than the other countertops of different materials.
But even if it is considered expensive, you will still get your money back by the time you decide to sell your house in the future. Any improvements done to a property will increase its resale value, especially when you use quartz counters in your kitchen.
If you need help in deciding whether quartz countertops are the best option for you, you can always ask the remodeling experts of Kitchen and Bath by Zeus.
What Is the Closest Competitor of Quartz?
The closest competitor of quartz counters is the solid surface countertop. Quartz and solid surface both have stone-like components. And although they look kinda the same, a solid surface is offered at a much lower price. However, dealing with slight scratches is easier on a solid surface than with quartz.
Laminate countertops, on the other hand, are another popular choice. They cost lower than the quartz countertops and are easy to install that they can be DIY-ed. They are also durable despite their lower market value.
But it is important not to confuse quartz with laminate. Quartz is actually said to be harder and more durable than granite. Whereas laminate is mainly made of plastic and paper that are attached to particleboard.
How to Choose Kitchen Countertops?
Kitchen countertops are considered the most important part of any kitchen. They will either make or break a good impression of your kitchen in terms of appearance and quality. So aside from being aesthetically pleasing, kitchen countertops must also be durable enough to hold the weight of whatever you are planning to put on top.
Kitchen and Bath by Zeus can turn your dream kitchen into a reality. And when it comes to kitchen counters, we can help you have that final touches while letting you express your own personality and style. Even if we aim for beauty in our kitchen, we will not let the opportunity of having a functional countertop slip by.
When choosing the right countertops, two of the most important things to consider are functionality and physical appearance. However, with several options available in the market, you might get confused as to what particular type to choose. Good thing our team of knowledgeable craftsmen is here to help. You can always check the different countertop options we have here to help you decide.
Are you considering quartz countertops for your kitchen? What about remodeling your small bathroom with quartz countertops? All it takes is one message to start your kitchen remodeling experience. So contact us today!