As homeowners, we all know the importance of having a beautiful and functional kitchen. Growing trends actively push us to explore newer, unconventional ideas in order to create a space of our own – distinct from our neighbors or others.
But how do we go beyond the traditional looks and incorporate something truly unique? The answer falls in the concept of a transitional kitchen. This is the perfect choice for those who like to blend modern design elements with timeless classic pieces.
You've heard the concept before, but now let's take a deep dive into the many benefits of incorporating a transitional kitchen into your home.
What is a Transitional Kitchen?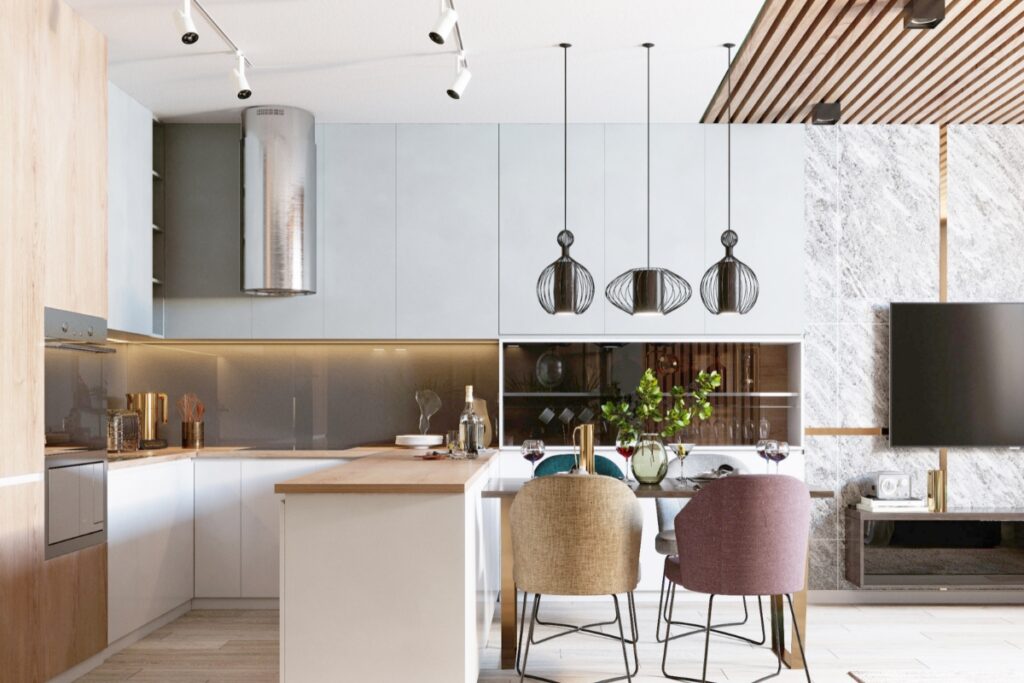 A transitional kitchen is a unique blend of modern and traditional elements that create a timeless look. This style of kitchen is perfect for those looking to bring an air of sophistication to their space without committing to a full remodel.
With a transitional kitchen, you can create a classic atmosphere that is still functional and up to date with the latest trends.
For those who appreciate classic design elements, a transitional kitchen is the perfect way to combine classic features such as classic cabinets and timeless countertops with modern touches like stainless steel appliances and updated finishes. By using these elements together, you can create a kitchen space that effortlessly blends elements of both the past and present.
Timeless Appeal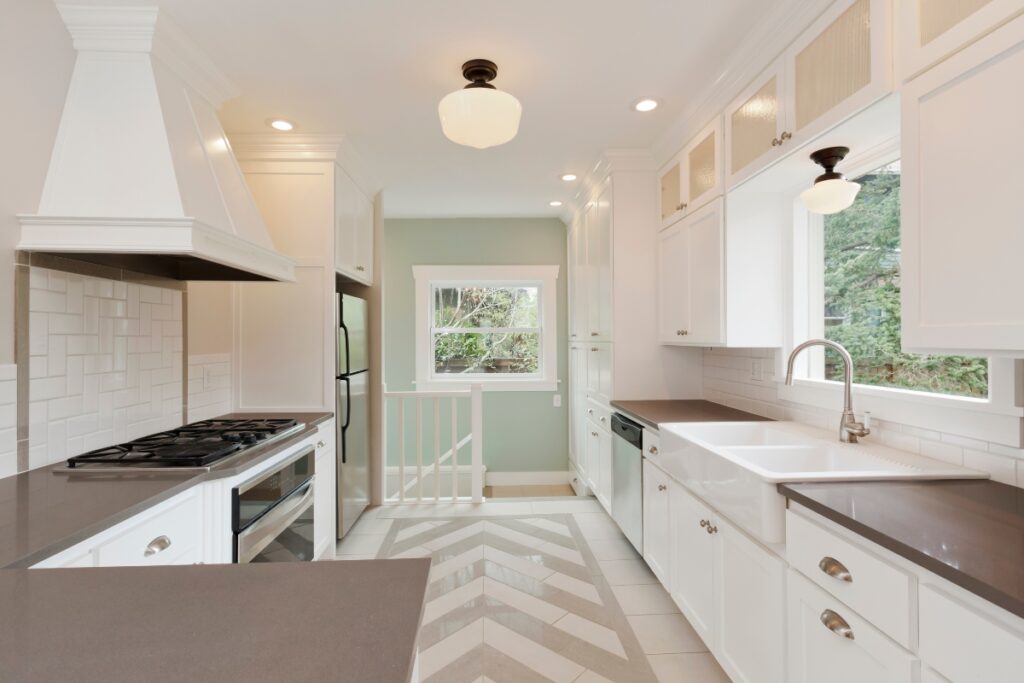 Transitional kitchens boast a timeless aesthetic that can withstand changing design trends. By blending classic and modern elements, these kitchens create a harmonious balance that remains stylish for years to come.
A transitional kitchen offers the best of both worlds, allowing homeowners to create a unique space that combines the elegance and timelessness of a classic kitchen with the functionality of a modern one.
With a transitional kitchen, homeowners can create a stylish space that is both up-to-date and timeless in its appeal. Additionally, the combination of classic and modern elements can open up a variety of design possibilities, allowing homeowners to truly express their individual styles.
Versatile Design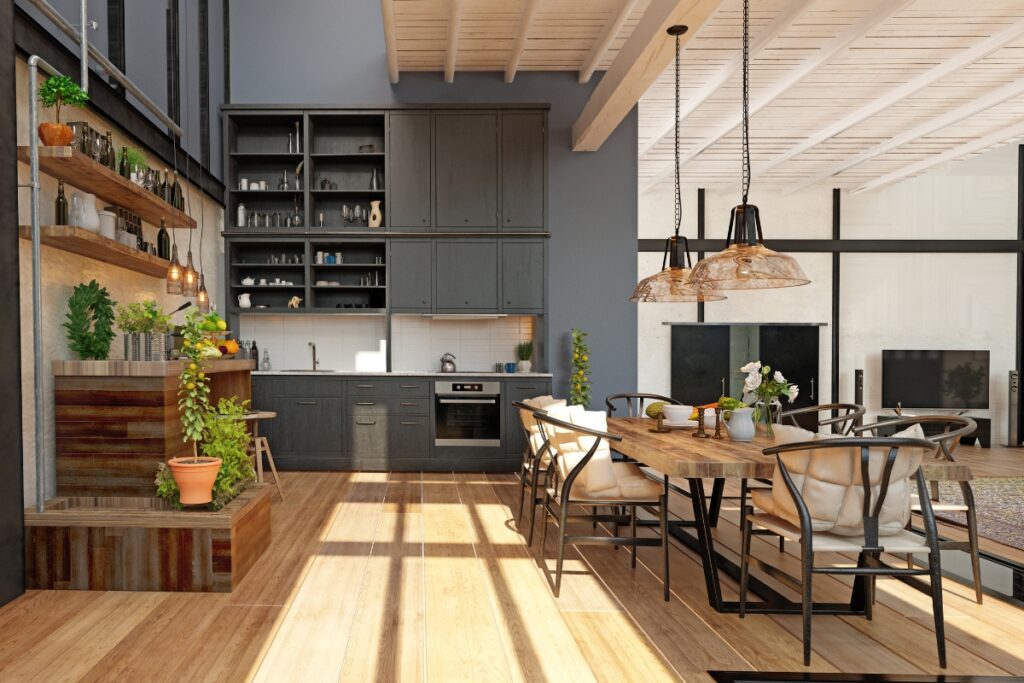 The versatility of a transitional kitchen allows for creative expression and customization. You have the freedom to mix and match materials, colors, and finishes to suit your personal taste.
For example, you can combine traditional cabinet styles with sleek, modern hardware, or pair a farmhouse sink with minimalist, stainless steel appliances. This flexibility enables you to create a truly unique kitchen that reflects your individual style.
Bridging Traditional and Contemporary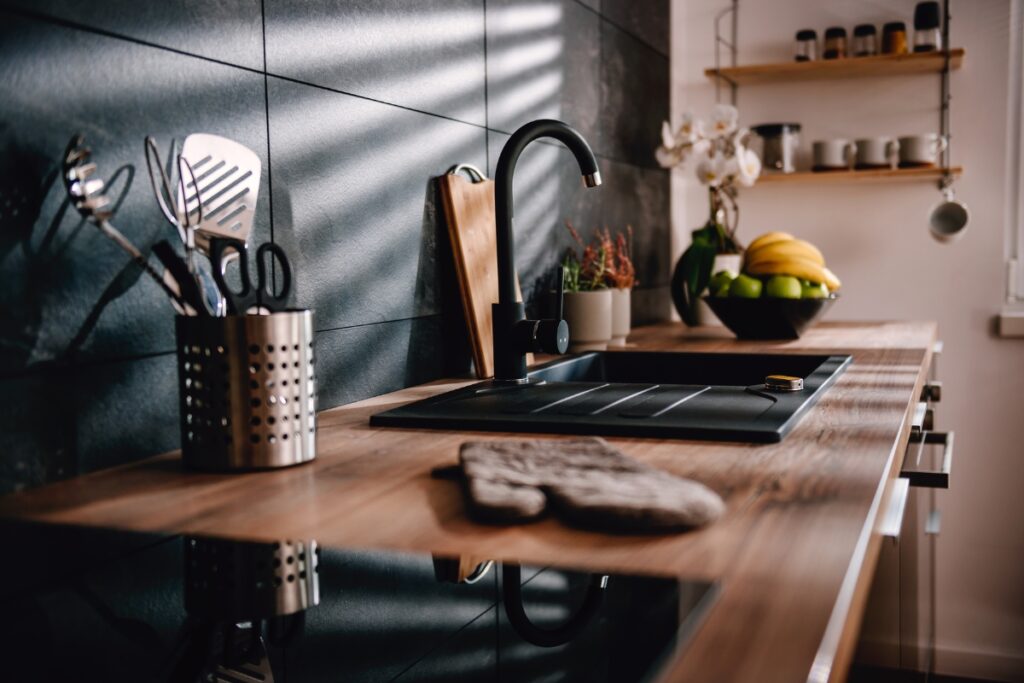 The beauty of a transitional kitchen lies in its ability to bridge the gap between traditional and contemporary design styles.
It brings together the warmth and familiarity of traditional elements, such as ornate moldings or classic cabinetry, with the clean lines and simplicity of contemporary design. The result is a harmonious fusion that satisfies both the desire for timeless elegance and the need for a modern, uncluttered space.
Functional and Practical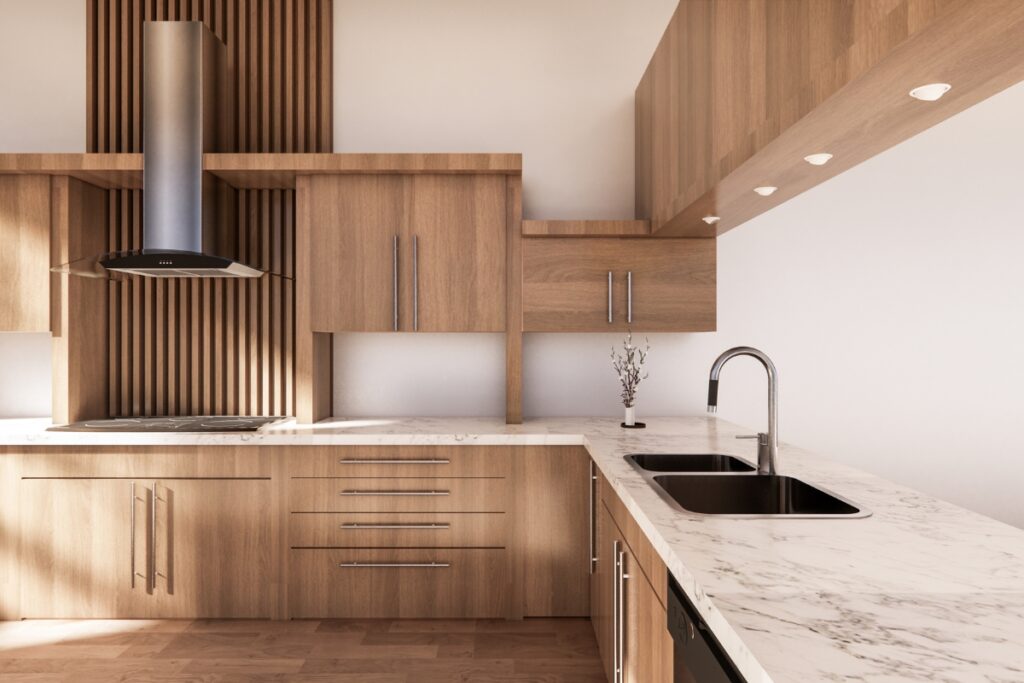 Functionality is a key aspect of any well-designed kitchen, and transitional kitchens excel in this regard.
They often feature efficient layouts that optimize workflow and provide ample storage solutions. Incorporating features like pull-out pantry shelves, deep drawers, and built-in organizers ensures that everything has its place, reducing clutter and making cooking and meal preparation a breeze.
Additionally, transitional kitchens often integrate modern appliances with advanced technology, enhancing convenience and efficiency.
Comfortable and Inviting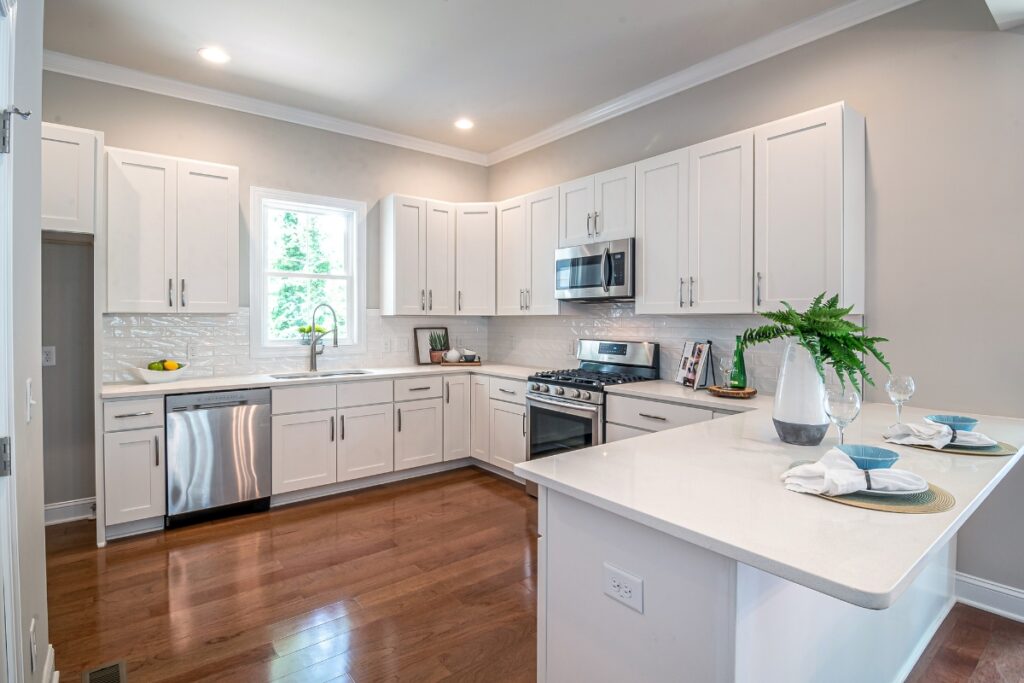 Creating a comfortable and inviting atmosphere is a hallmark of a transitional kitchen. Warm and neutral color palettes, such as soft creams, beiges, or greiges, contribute to a cozy ambiance.
Comfortable seating options, such as upholstered barstools or a cozy breakfast nook, invite family and guests to gather and relax. By combining elements of both traditional and contemporary design, a transitional kitchen fosters a welcoming environment that encourages socializing and enjoyment.
Increased Resale Value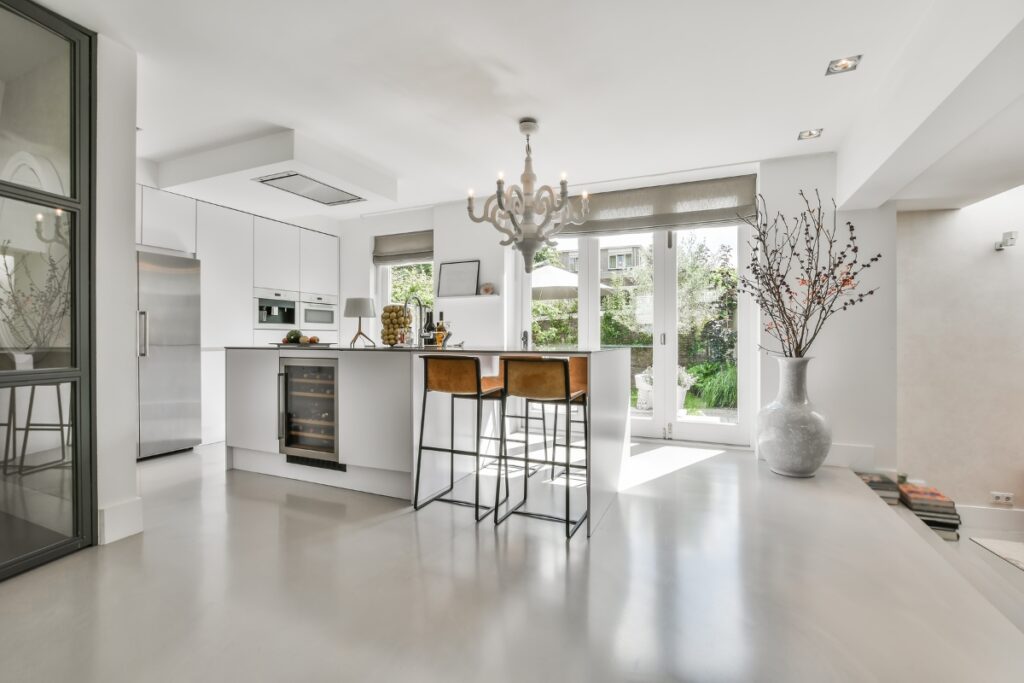 Investing in a well-designed transitional kitchen can significantly enhance the resale value of your home. Its broad appeal, which combines classic elegance with contemporary sensibilities, makes it appealing to a wide range of potential buyers. Homebuyers often value the timeless and versatile nature of transitional kitchens, considering them a desirable feature that can set your home apart from others on the market.
How to Achieve the Transitional Look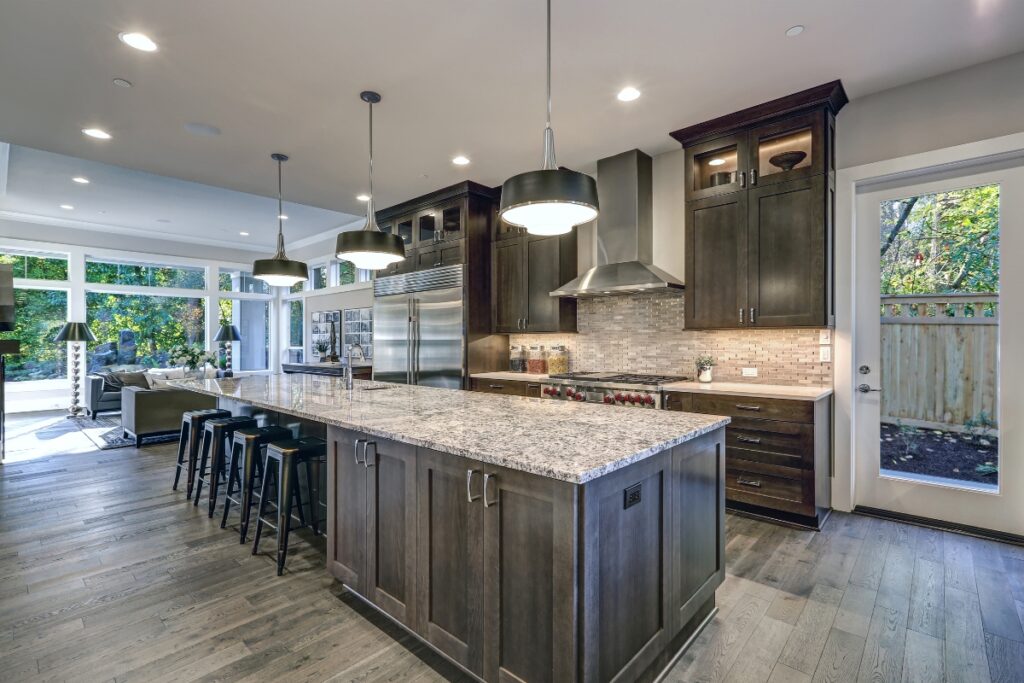 Achieving the perfect balance between style and function is one of the biggest challenges of home design. But when it comes to your kitchen, achieving this balance is especially important. With the right transitional kitchen design, you can unlock unbeatable elegance and functionality.
A transitional kitchen is one that blends traditional and modern elements to create a timeless look that is perfect for any kitchen. It marries classic features with modern amenities to create a kitchen that is both beautiful and practical. The key to achieving this look is to combine the best elements of both traditional and modern kitchen designs.
One of the most important parts of creating a transitional kitchen is the use of color. While white is the classic kitchen color, you can also incorporate other hues such as blues, grays, or any other shades that you feel will give your kitchen a warmer, inviting feel. You can also choose different shades of the same color to add depth and interest to your kitchen design.
When it comes to furniture, it is important to choose pieces that are versatile. Choose pieces that can fit with any room, regardless of whether you are going for a contemporary or traditional look. Additionally, choose pieces that are both comfortable and practical. For example, a kitchen island is a great choice as it can provide both workspace and seating.
The next step in creating a transitional kitchen is in the cabinetry. Cabinetry is one of the most important elements of your kitchen and choosing the right style can make or break your design. To create a traditional look, you can opt for wood cabinets in warm colors. For a more modern look, you can choose glossier finishes in cooler shades.
Lighting can also play an important role in a transitional kitchen. To create a warm and inviting space, you can choose to install pendant lights above the kitchen island or a chandelier in the dining area. Additionally, installing recessed lighting throughout the kitchen can provide functional lighting as well as highlight specific areas, such as the backsplash or the countertops.
Finally, adding the right accents can help pull the look together. To create a more modern look, you can choose chrome and stainless steel accents, while for a more traditional look, you can opt for wooden accents such as a decorative bowl or vase. Additionally, adding decorative plants to the space can help to add a more natural, inviting feel.
Conclusion
A transitional kitchen is a kitchen style that combines both traditional and modern elements to create an elegant and functional space. It is a design style that bridges the gap between the two designs, incorporating the best of both worlds. This type of kitchen is perfect for those who want a timeless aesthetic, as it is both classic and contemporary.
These are perfect for those looking to create a timeless, elegant, and functional kitchen. Their combination of traditional and modern elements makes them both stylish and practical, and their ergonomic design makes them comfortable and efficient.
Plus, they are easy to customize to fit any budget, making them a great choice for any homeowner looking to upgrade their kitchen.
To achieve this look, leave it to the professionals at Kitchen and Bath by Zeus. We offer professional kitchen remodeling services that are designed to help you achieve the perfect look for your dream kitchen.
Learn more about how you can build your dream home today by calling us at 404-602-2668 or kick things off and schedule a free consultation!