So you feel like you've been dealing with a small bathroom your entire life? Well, did you know that remodeling a small bathroom is possible even without "demolishing" a part of your home? It definitely is. So learn how these things work - from changing the color of your wall to replacing your countertop, to make your bathroom seem larger.
You might be thinking that just as long as your shower, toilet, and vanity are in the same room, your bathroom is already enough. We are also wired to work on what we have. But to fully utilize the space that you currently have, you got to follow these small bathroom design tips.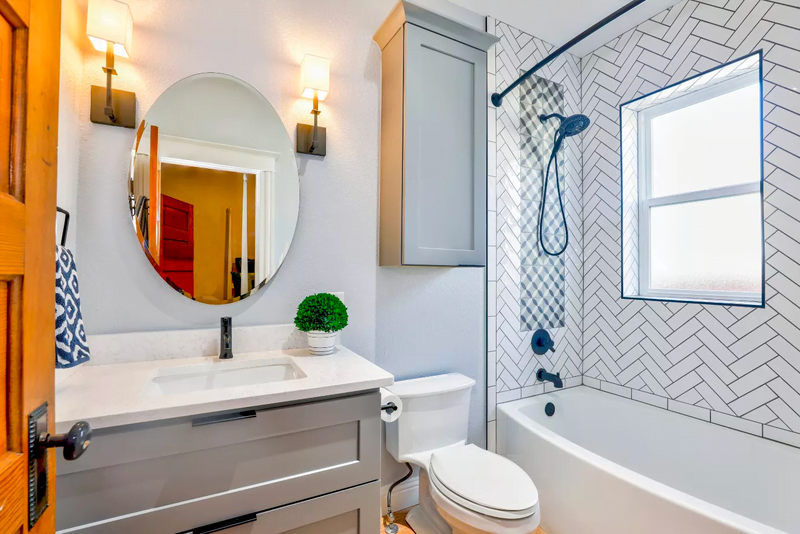 Remodeling a Small Bathroom: Design Tips to Follow
It is a common notion that the smaller the space, the more difficult it is to remodel. But these small bathroom makeover tips will easily make your bathroom appear larger.
Choose a Lighter Color
When choosing a color for your wall and even for the furniture and other decorative accessories, make it monochromatic. So instead of contrasting colors, use a single hue that extends to different shades and tones. It is also best to lean towards lighter color. This will definitely do the trick when remodeling a small bathroom.
A popular choice is soft gray. While warm white and icy blue will add a bit of color to your bathroom. Seafoam green is another great option. These color choices will also perfectly pair with white furnishings. You can then match the color of your wall with the color of your tiles on the floor.
By avoiding dark colors, you will be able to avoid making a tiny room look tinier. And by sticking to the same color scheme from your walls to the floor, you will create the illusion of having more space. This is due to the corners being hard to notice.
As for the ceiling, the best choice is simply a basic white. Just make sure not to add a pop of color to it.
Put on a Bit of Personality
Adding a pop of blue to an entirely white bathroom will not hurt. In fact, it will add a bit of color and make a good finish. This means that you do not have to lose your personality while in the process of aiming to make a small room appear bigger. And the secret lies in your bathroom accessories.
When you try to inject a pop of color from here to there, make sure that they are of the same shade. For example, adding a blue towel works well with a blue soap dish. A patterned bathroom mat will also add texture to your interior.
This strategy will actually make it easy for you to update your bathroom interior if you feel bored about it in the future. Just switch to a different choice of color and voila. In other words, remodeling a small bathroom doesn't mean there must be an absence of color. Just see to it that it will not overwhelm your bathroom design and ruin the process of making it appear bigger.
Make Your Ceiling Look Higher
Creating an impression of a higher ceiling will make the entire bathroom look and feel larger. To do this, choose the right light fixtures. Install it directly inside your ceiling instead of letting it hang down. This will not only create an illusion of a higher ceiling but will also make your bathroom look tidier.
Also, use crown molding that is narrow enough not to easily catch the attention of anyone who uses your bathroom. Then have it painted with the same color as your ceiling. You can also make the line between your ceiling and wall disappear by using wall sconce lighting that is directed upward. Plus, anything wall-mounted will free up the floor space.
More Ideas on Remodeling a Small Bathroom
Use a Clear Glass Shower Door
The idea of using a glass shower door in your walk in shower when remodeling a small bathroom is to avoid separating your shower area. And instead of the textured one, a clear glass shower door will create an illusion of your shower area being a part of your bathroom. This will extend your vision instead of cutting it off with a wall or a curtain. This is a great option if privacy is not an issue for you.
Take Advantage of Mirrors
The use of mirrors in your bathroom will allow the light to reflect and bounce naturally inside. This will work wonders in making a room appear larger than it really is. Whenever you get the chance to decorate your wall with a mirror, always choose the biggest one. Other surfaces that will do the trick are countertops, tubs, and fixtures that are glossy enough to reflect some light.
Make It Well Ventilated
The thought of remodeling a small bathroom is not only to make it appear larger. Another reason for doing so is to make someone feel better while using it. And that can be achieved through proper ventilation. Besides, a high level of humidity will only damage your wall paint while making anyone uncomfortable. And again, go for a ventilation fan that you can hide within your ceiling.
Remodeling a Small Bathroom: Begin It with Us
If you think you only have just enough space to do your bathroom stuff, then think again. You can actually remodel your bathroom the way you want it, no matter how small you think your space is. And you can always begin your bathroom transformation with Kitchen & Bath by Zeus.
We are a remodeling contractor that transforms kitchens and bathrooms. We offer quality service and workmanship at a very reasonable price. And we provide our services to Atlanta and its surrounding areas.
At Kitchen & Bath by Zeus, we believe that improving your home is important. So begin it with us through our bathroom remodeling and renovation services.
Need help in remodeling a small bathroom? Then discuss it with the remodeling experts of Atlanta. Don't hesitate to contact us and our team will call you promptly.